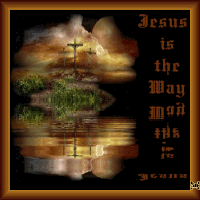 21which figure now also saves us: immersion – not a putting away of the filth of the flesh, but the answer of a good conscience toward Elohim – through the resurrection of יהושע Messiah,
22who, having gone into heaven, is at the right hand of Elohim, messengers and authorities and powers having been subjected to Him. 1 PETER 3:21-22 Institute for Scripture Research – ISR
21 The like figure whereunto even baptism doth also now save us (not the putting away of the filth of the flesh, but the answer of a good conscience toward God,) by the resurrection of Jesus Christ:
22 Who is gone into heaven, and is on the right hand of God; angels and authorities and powers being made subject unto him. 1 PETER 3:21-22
King James Version - KJV
8 Thou hast put all things in subjection under his feet. And in that he hath put all things in subjection under him, he left nothing that should not be subject unto him. [a]But we yet see not all things subdued unto him,
9 [b]But we [c]see Jesus crowned with glory and honor, which was made little [d]inferior to the Angels, [e]through the [f]suffering of death, that by God's grace he might [g]taste death for [h]all men.
10 
For it became [j]him, for whom are all these things, and by whom are all these things, [k]seeing that he brought many children unto glory, [l]that he should consecrate the [m]Prince of their salvation through afflictions. HEBREWS 2:8-10 Geneva Bible 1599 - GNV
May Yah bless and keep you ALL safely abiding under the Shadows of His Mighty Wings.  If you have not yet repented, I ask that you repent immediately.  Turn to our Heavenly Father through His Beloved Son Yeshua Ha Mashiach (Jesus Christ).  Please consider doing this immediately, for as we know the world is soon coming to a close.  It is during this time that we will need Yah's full divine protection for what is to be unveiled.  I believe that it was through obedience that Noah had such great faith; this in essence was what saved him and his family from the flood. As a born again Christian (a former Roman Catholic of 46+ years) there is so much to gain in doing so.  My soul is richly blessed by the gems of truth revealed to me by my beloved Heavenly Father, Abba, and I have no regrets repenting of my past ways.  Blessings! ~ Judy Velez
THE PSALMS 
1Save me, O Elohim! For waters have come up to my neck.
2I have sunk in deep mud, And there is no place to stand; I have come into deep waters, And the floods overflow me.
3I am worn out from my crying; My throat is dry; My eyes grow dim As I wait for my Elohim.
4Those who hate me without a cause Are more than the hairs of my head; They are mighty who would destroy me, My lying enemies; What I did not steal, I restored.
5O Elohim, You Yourself know my foolishness; And my guilt has not been hidden from You.
6Let not those who wait for You, O Master יהוה of hosts, Be ashamed because of me; Let not those who seek You Be humbled because of me, O Elohim of Yisra'ĕl.
7Because I have borne reproach for Your sake; Shame has covered my face.
8I have become a stranger to my brothers, And a foreigner to my mother's children;
9Because ardour for Your house has eaten me up, And the reproaches of those who reproach You have fallen on me.
10And I wept in my being with fasting, And it became my reproach.
11And when I put on sackcloth, I became a proverb to them.
12They who sit in the gate talk about me, And I am the song of the drunkards.
13But as for me, my prayer is to You, O יהוה, At an acceptable time, O Elohim. In the greatness of Your kindness, Answer me in the truth of Your deliverance.
14Rescue me out of the mire, And let me not sink. Let me be rescued from those who hate me, And out of the deep waters.
15Let not a flood of waters overflow me, Nor let the deep swallow me up, Nor let the pit shut its mouth on me.
16Answer me, O יהוה, for Your kindness is good. According to the greatness of Your compassion, turn to me.
17And do not hide Your face from Your servant, For I am in distress; Answer me speedily.
18Draw near to my being, redeem it; Ransom me because of my enemies.
19You Yourself know my reproach, And my shame and my confusion; My adversaries are all before You.
20Reproach has broken my heart and I am sick; I looked for sympathy, but there was none; And for comforters, but I found none.
21And they gave me gall for my food, And for my thirst they gave me vinegar to drink.
22Let their table before them become a snare, And a trap to those at ease.
23Let their eyes be darkened, so as not to see; And make their loins shake continually.
24Pour out Your wrath upon them, And let Your burning displeasure overtake them.
25Let their encampments be deserted; Let no one dwell in their tents.
26For they persecute him whom You have smitten, And talk about the pain of those You have wounded.
27Add crookedness to their crookedness, And let them not enter into Your righteousness.
28Let them be blotted out of the book of the living, And not be written with the righteous.
29But I am poor and in pain; Let Your deliverance, O Elohim, set me up on high.
30I praise the Name of Elohim with a song, And I make Him great with thanksgiving.
31And this pleases יהוה more than an ox, A bull with horns and hooves.
32The humble shall see, they rejoice, You who seek Elohim, and your hearts live.
33For יהוה hears the poor, And He shall not despise His captives.
34Let the heavens and earth praise Him, The seas and all that moves in them.
35For Elohim shall save Tsiyon And build the cities of Yehuḏah. And they shall dwell there and possess it,
36And the seed of His servants inherit it, And those who love His Name dwell in ita.
PSALM 69 Institute for Scripture Research – ISR
*Gif is from public domain, original author unknown

---
Permissions in this forum:
You
cannot
reply to topics in this forum