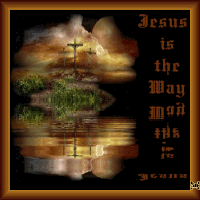 10Then יהושע said to him, "Go, Satan! For it has been written, 'You shall worship יהוה your Elohim, and Him alone you shall serve.' "a
11Then the devil left Him, and see, messengers came and attended Him.
12And יהושע, having heard that Yoḥanan had been put in prison, withdrew into Galil. MATTHEW 4:10-12 Institute for Scripture Research – ISR
   
   
   
10 Then saith Jesus unto him, Get thee hence, Satan: for it is written, Thou shalt worship the Lord thy God, and him only shalt thou serve.
11 Then the devil leaveth him, and, behold, angels came and ministered unto him.
12 Now when Jesus had heard that John was cast into prison, he departed into Galilee; MATTHEW 4:10-12 King James Version - KJV 

10 Then said Jesus unto him, Avoid Satan: for it is written, Thou shalt worship the Lord thy God, and him only shalt thou serve. 
11 Then the devil left him: and behold, the Angels came, and ministered unto him.
12 ¶ [a]And when Jesus had heard that John was committed to prison, he returned into Galilee,
MATTHEW 4:10-12 Geneva Bible 1599 - GNV
May Yah bless and keep you ALL safely abiding under the Shadows of His Mighty Wings.  If you have not yet repented, I ask that you repent immediately.  Turn to our Heavenly Father through His Beloved Son Yeshua Ha Mashiach (Jesus Christ).  Please consider doing this immediately, for as we know the world is soon coming to a close.  It is during this time that we will need Yah's full divine protection for what is to be unveiled.  I believe that it was through obedience that Noah had such great faith; this in essence was what saved him and his family from the flood. As a born again Christian (a former Roman Catholic of 46+ years) there is so much to gain in doing so.  My soul is richly blessed by the gems of truth revealed to me by my beloved Heavenly Father, Abba, and I have no regrets repenting of my past ways.  Blessings! ~ Judy Velez
THE PSALMS 
1Shout with joy to Elohim, All the earth!
2Sing out the splendour of His Name; Make His praise esteemed.
3Say to Elohim, "How awesome are Your works! Through the greatness of Your power Your enemies pretend obedience to You.
4"All the earth bow to You, They sing praises to You, They praise Your Name." Selah.
5Come and see the works of Elohim, Awesome acts toward the sons of men.
6He has turned the sea into dry land, They went through the river on foot. There we rejoiced in Him,
7Who rules by His power forever; His eyes keeping watch on the gentiles; Let the rebellious not exalt themselves. Selah.
8Bless our Elohim, you peoples! And sound His praise abroad,
9Who keeps us in life, And does not allow our feet to be moved.
10For You, O Elohim, have proved us; You have refined us as silver is refined.
11You brought us into the net; You laid affliction on our loins.
12You have let men ride at our head; We went through fire and through water; But You brought us out to plenty.
13I enter Your house with burnt offerings; I complete my vows to You,
14That which my lips have uttered And my mouth spoke in my distress.
15Burnt offerings of fatlings I offer to You, With the incense of rams; I offer bulls with goats. Selah.
16Come, hear, all you who fear Elohim, And I relate what He has done for my being.
17I called to Him with my mouth, And praise was in my tongue.
18If I have seen wickedness in my heart, יהוה would not hear.
19Truly, Elohim has heard me; He has given heed to the voice of my prayer.
20Blessed be Elohim, Who has not turned away my prayer, Nor His kindness from me! PSALM 66 Institute for Scripture Research – ISR
*Gif is from public domain, original author unknown

---
Permissions in this forum:
You
cannot
reply to topics in this forum