Mystery lights spotted by residents across hundreds of miles of southern California leave officials baffled
   Several witnesses said they saw the lights appear for several minutes before disappearing
   Local military and aviation officials said the lights were unrelated to them
   Law enforcement baffled
By Peter Rugg
Published: 08:09 EST, 20 June 2014 | Updated: 09:48 EST, 20 June 2014
Southern California residents are baffled by a grouping of mysterious lights seen hovering in the sky late Thursday evening.
The lights, which have yet to be explained, were seen in the sky above southern Orange County, Riverside County, and San Diego County.
Rancho Santa Margarita resident Ranaye Kahn reported seeing the lights at about 10:30 p.m.
Scroll down for video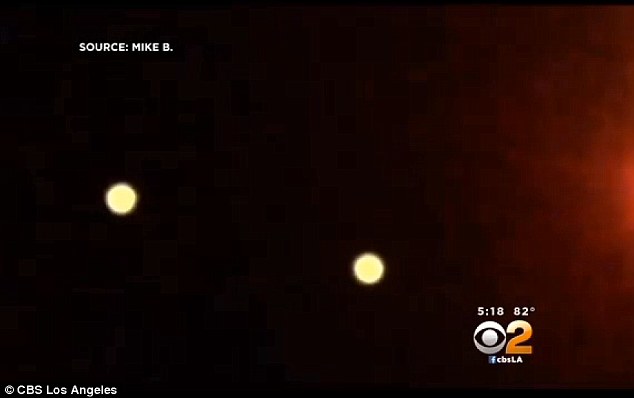 Southern California residents are still trying to determine what caused these mysterious glowing lights in the sky
Witnesses said the lights glowed brighter and darkened over and over for several minutes
'I'm looking at it and thinking that's really strange because it was yellow, not normal plane lights,' Kahn told ABC7. 'We had two lights, then they both went out, then a third light came on. (I) was listening for helicopter sounds, plane sounds -- no sounds at all, just lights.'
More...
   Realm of beautiful decay: Haunting photos of abandoned mansions, shuttered asylums and deserted amusement parks where time stands still
   The 10 snobbiest cities in America revealed... and California claims most of them
Several people sent in tips about the lights to local news stations seeking an explanation.
'Crazy!! Two bright lights over Orange County. Weird the kept dimming and reappearing,' Rose Cruz wrote on the local ABC affiliates Facebook page.
Another witness, Allison Williams, said she saw the lights for several minutes.
'Saw these two bright orange lights from the 405 S at Sand Canyon all the way to the 5 exited Alicia watched them for a little while and left, went back and they were gone within minutes,' she wrote.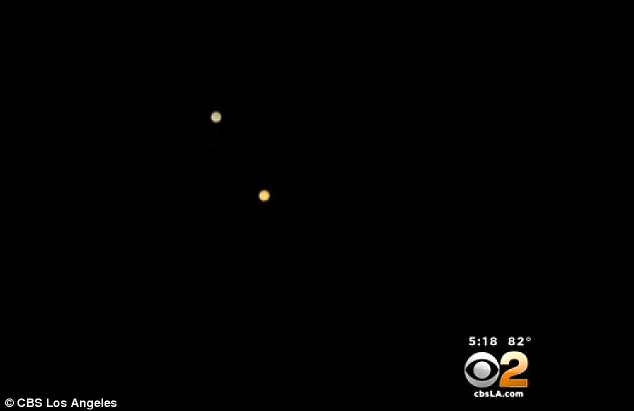 Local military officials said the lights had nothing to do with their bases
Local law enforcement said the lights did not come with any reports of problems.
And representatives for Camp Pendleton and Marines Corps Air Station Miramar said the lights were not related to their bases.
'We had no unusual aircraft activity in Southern California last night,' said the Federal Aviation Administration.
Mysterious Lights In The Sky Spotted Above OC, Camp...
Our CBS2 Street Team mobilized Wednesday night after receiving several reports of orange lights appearing various parts of southern Orange County. Pat Harvey reports.
Share or comment on this article
Read more:
http://www.dailymail.co.uk/news/article-2663688/Mysterious-glowing-lights-appear-Southern-California-sky.html#ixzz35I0lLjC6
NOTE;  SIGNS IN THE HEAVENS?

---
Permissions in this forum:
You
cannot
reply to topics in this forum