Meet Lord RayEl, 'risen Christ' and failed politician, who ruined a young man's NFL prospects
By Tony Ortega
Friday, March 14, 2014 7:45 EDT
Over the past few weeks, the sports press has been reporting a bizarre story concerning a promising young football player named Adam Muema.
Muema, 21, had amassed an impressive record as a running back at San Diego State University, and had decided to leave college after his junior year, foregoing his senior year of eligibility, and put himself up for this year's NFL draft.
Experts said his prospects were only somewhat promising — if he did well at the February workouts known as the scouting "combine," he might be selected in the middle or later rounds of the draft. It wasn't a guaranteed road to professional success, but there was at least some chance of a lucrative contract.
To everyone's surprise, however, Muema pulled out of the combine, and his excuses were simply bizarre. Muema said his reasons were religious, and that he was taking directions from a "Lord RayEl," whom Muema described on his Facebook page as "The Returned Christ, Lord RayEl, also known as The Messiah, Yeshua to the Jews, Isa to the Muslims, and Jesus to the Christians."
The Los Angeles Times, Fox Sports, and other outlets have said Muema's chances of being drafted have now vanished — NFL teams won't want to touch a guy who behaves so erratically.
But who is Lord RayEl, and how could he wield so much influence over Muema that the young athlete would squander what appeared to be at least a decent shot at the NFL and its lucrative fields of glory?
This is where the story gets even more depressing, because Lord RayEl, a/k/a Raymond Elwood Howard-Lear, originally of Lynwood, Illinois, is just about the most pathetic excuse for a guru that we've ever seen — and we've covered quite a few.
We'll start at the beginning — Lord RayEl's website. Its address is "ra-el.org" and it proclaims "The Messiah Has Arrived."
The site features videos and "proof" that RayEl is the returned Jesus Christ, and it urges readers to prepare for his coming. "What purpose would it serve to follow a dead church," he explains in his Frequently Asked Questions section, "when you could instead follow the living Christ?"
The website was created in 2011 and was at that time registered to a woman named Ruth Howard-Lear. ("Ra-el" is "Lear" backwards, one notes.) The street address listed in the registration is the location of an Illinois "vein treatment and cosmetic center," but most importantly, the contact e-mail was listed as raymondlear@ymail.com
There is only one Ruth Howard-Lear listed in the United States. She is 77 and lives in Lynwood, Illinois and is a widow. Her husband was Raymond Elwood Howard-Lear, Sr.
Their son is Raymond Elwood Howard-Lear, 45, and he has a very interesting history.
In 2002, he ran unsuccessfully as a Democrat in the primary for the Illinois 5th Congressional District and is listed in official election documents as "Ray Lear (The Angel)."
The next year, Raymond Elwood Howard-Lear was arrested for trying to abduct a woman. The incident was described in bizarre terms by the Post-Tribune of Indiana…

Police say they hope an Illinois man will be denied bail after posing as a U.S. senator and carrying a phony CIA badge in yet another attempt to abduct a Schererville woman. Raymond Elwood Howard-Lear, 35, was charged Monday with felony stalking and conspiracy to commit confinement after he tried to hire a Kokomo-based bail bondsman to kidnap a 34-year-old Schererville woman. He told the bondsman she needed to be taken by force or the threat of force from a home in Schererville, where she was being held against her will as a drugged sex slave, and taken to a detox center in Mexico.



And then there's a seven-page opinion by the Indiana Court of Appeals which says that in 2003 Howard-Lear was arrested for attacking his ex-wife. He was then sentenced to six years in prison, but was released after only 18 months. A little more than a month after being released, in 2005 he accosted his ex-wife again, this time in Illinois, and tried to convince police called to the scene that he had papers that would allow him to have his ex-wife "committed." When she showed that in fact she had a restraining order against him, police arrested Howard-Lear. He was ordered to serve 166 days in Cook County jail, and then was resentenced in Indiana on his original charge to five years in prison. He appealed the sentence, and lost.
The court document also indicates that Howard-Lear was a high-school dropout, had been unable to finish a GED, and had not had steady work since 1995.
We don't know how long Howard-Lear spent in prison after that appeal, but in November 2012, thestate of Indiana still considered him a wanted man on an outstanding warrant, as you can see from this online listing…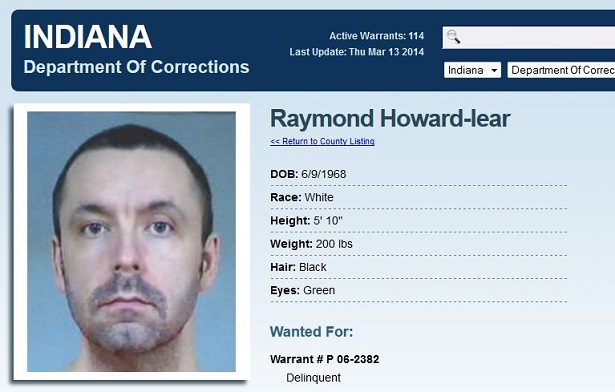 Note that birthday: June 9, 1968.
By 2009, Raymond Lear had regrouped to the point that he decided to run for office again. That year, there was a notice in the newsletter of the Libertarian Party of Illinois that he was looking for volunteers to help him with his campaign. (In 2010, the Libertarians ended up running Lex Green for governor instead.)
For that run, Lear put together a video that featured this photograph of himself…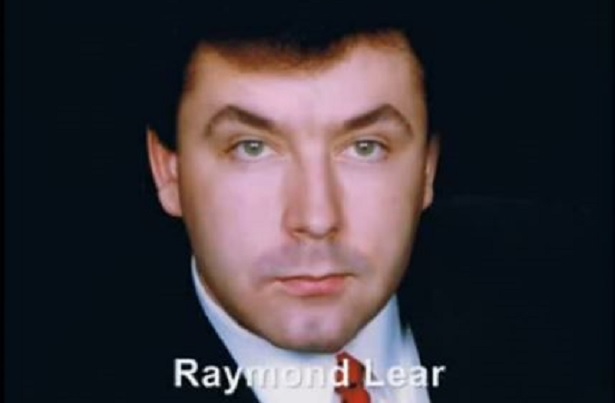 The video is also interesting because Lear tells some of his backstory. His father, he says, was a naval Word War II veteran who fought at D-Day. His mother was a "naval youth programs officer," who worked with children to keep them out of trouble…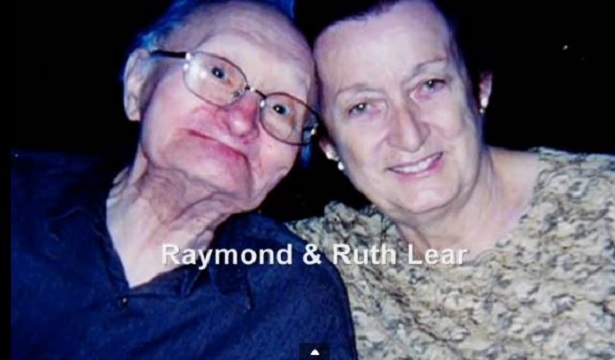 Inspired by his father's example, Lear posts this image, implying that he also served in the Navy…
Lear says he later formed a US Naval Sea Cadet Corps to work with children, but it was another service organization he joined that he is best known for…
What people know me best for is fighting crime and injustice. I was the commander of the Chicago chapter of the world famous Guardian Angels, the all-volunteer force that nightly risks life and limb to keep the most dangerous areas of the most dangerous cities safe. Those who wear the wings are honor-bound to fight crime and corruption no matter where it lies.
That part of the video shows a couple of news clippings that featured Lear when he was with the Guardian Angels. And so we can see why, when he ran for Congress in 2002, he had his name listed on the ballot as "Ray Lear (The Angel)."
Today, his Facebook page lists his name as "Raymond Elwood" (note the first syllables of each), his employer as the Guardian Angels, and his current home as Orchard Park, New York, near Buffalo. He has 8 Facebook friends.
Lord RayEl is considerably more popular, with 12,096 Facebook likes.
Here's how Lord RayEl describes his past at his website, ra-el.org…
"RayEl was born on Orthodox Pentecost (June 09, 1968)," he writes — the same birthdate as Raymond Howard-Lear.
RayEl, like Lear, grew up in Chicago and became the leader of the city's Guardian Angel chapter…
When Lord RayEl was a teenager, he was disgusted by the terrible things he saw on the crime-ridden streets of Chicago, so he entered the ranks of the only group he believed was actively doing anything about it. RayEl joined the world famous Guardian Angels, and went on a crusade to protect the innocent, and provide vigilance in the face of a dangerous and growing evil. Through many acts of courage, death defying heroism, and a tirelessly pursuit of justice, RayEl quickly rose to prominence, and was soon Commander over all of the city's army of Angels.
Like Lear, he ran for Governor, and was at one point jailed…
The people of Illinois saw him as the only incorruptible man alive, brave enough to fight against governmental corruption, so they pushed for him to run for Governor, but those who were in power tried to silence him, by killing his father, drugging and kidnapping his fiancé, and jailing both him and his elderly mother on made-up charges.

Despite that difficult path, RayEl came to the conclusion that he is the risen Christ. And now, let's look again at his transformation over the years…



So what sort of a risen god is Raymond Ray-El Elwood Howard-Lear? Well, take a listen at his coming-out speech from 2011, when he announced his divine nature. In this video, you'll hear his words, spoken in one of the most affected fake-British accents you'll hear. Brace yourselves…

Sayeth the lord, about 1:50 into the video:
My children, I am RayEl. I am your king, and I am your lord, and I have arrived, as promised, to reclaim the throne of my father. Just as my sun now rises, so too does the son of God rise to redeem humanity. My children, this shall not be pleasant, for the harvest has begun, as has your judgment. Know this: What must be done, must be done. I shall remove all evil from the kingdom, and those of my choosing will reign with me in peace and love, forever. My father's breath is already upon you. As never before, you are feeling your lands move, the water rising, and the gusts of his nostrils laying waste to your embankments. He will be here soon. But first, I shall judge the nations. I shall decide who will be spared.
It goes on and on, and if you can endure Ray's bad Monty Python accent, you have serious stamina.
So, the question is, who could take Ray Lear seriously? Sadly, a talented young man with an enormous future has for some reason fallen under his spell. Adam Muema sounds completely dedicated to RayEl, even though a video by RayEl seems to indicate that the young athlete only began talking about RayEl publicly in February.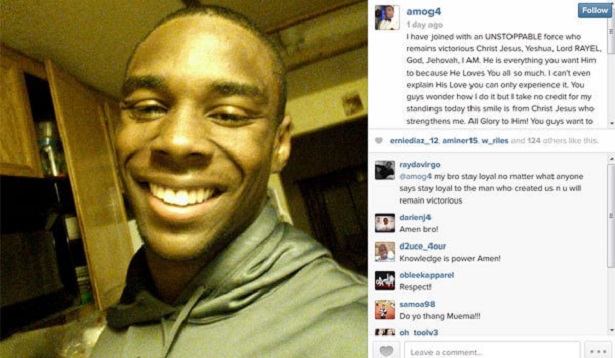 One of the images from Muema's Instagram account (above) comes with this caption: "I have joined with an UNSTOPPABLE force who remains victorious Christ Jesus, Lord RAYEL, God, Jehovah, I AM. He is everything you want Him to because He Loves You all so much. I can't even explain His Love you can only experience it. You guys wonder how I do it but I take no credit for my standings today this smile is from Christ Jesus who strengthens me. All Glory to Him! You guys want to give me advice but I have not seen anyone that would drop everything for Him. I dreamed NFL since 4 yrs old & I know you watch the combine. I dropped family & trusted it would all fall into place but supposedly no I went missing??? I'm grown Where's my freedom America. I can't communicate with family for 2-3 days without missing. Open your eyes. I WONT stop this because my Father is always victorious no LIMITS! HE spoke the world into existence & said he rested on the 7th boys must be hard work. That's the God I serve. NO LIMITS! GOD BLESS I LOVE YOU ALL as my Father does!"
On Facebook, RayEl has been gloating about his interactions with Muema — it seems obvious that he's pleased with himself for influencing a young man, and with the effect it created. (RayEl claims to have predicted these events by finding messages hidden in the "code" of the Torah.)
If RayEl had more smarts, he might have convinced Muema that it was God's will that he tear up the combine, get drafted in the first round, and share a multimillion-dollar contract with his end-times prophet.
We'd love to ask RayEl about that, but after sending messages to his current Raymond Lear e-mail and to his RayEl website, we're still waiting for a reply. We also messaged Muema, and haven't heard back.
We're hoping to ask Adam about RayEl, and maybe talk a little sense into him. Is it too late for Muema to spend another year in college and regroup? Football experts, let us know.
Tony Ortega
Tony Ortega is Raw Story's executive editor. From 2007 to 2012 , he was editor-in-chief of The Village Voice. He also worked at Voice Media Group's other newspapers in Phoenix, Los Angeles, Kansas City, and Fort Lauderdale. He lives in New York City and is originally from Los Angeles.

---
Permissions in this forum:
You
cannot
reply to topics in this forum